Mediterranean flavors, a relaxing atmosphere, and stunning views
Our Terrazza Maresca restaurant is unforgettable. Have a leisurely breakfast here as the sun rises over the coast, savor traditional Mediterranean dishes, or relax with your favorite cocktail at sunset. Any time of day or night, you'll be treated to the extraordinary view over the sea off Capri and the whole of the Bay of Naples.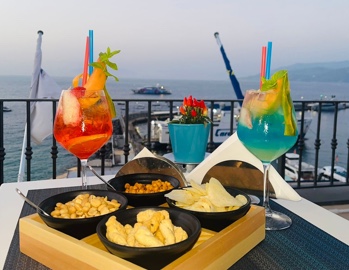 Enjoy your... With Us! EVERY DAY
Drinks and Snack to choose
Terrace Restaurant on 4th Floor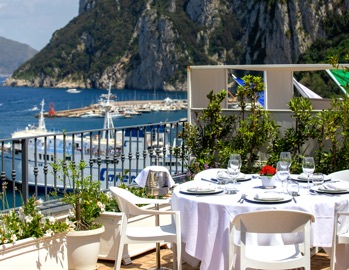 The gourmet terrace
Welcome to Terrazza Maresca, our rooftop restaurant, where you can sample classic island dishes local to Capri and Mediterranean specialties.
The view comes included with your meal!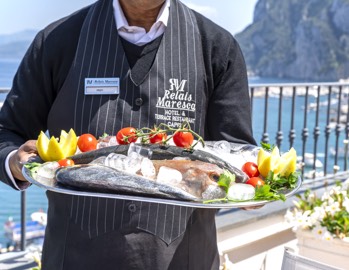 Irresistable temptations
Traditional "ravioli capresi", caprese salad, fresh fish and seafood: our menu is a tempting invitation to savor the simple yet unforgettable flavors of our island's classic Mediterranean cuisine. We also offer gluten-free options, vegetarian and vegan dishes, and child-friendly selections.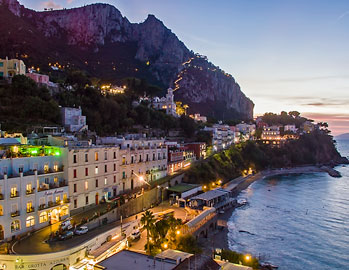 Meet us at sunset
When the sea sparkles with the glowing shades of the setting sun, it's time to unwind with your favorite drink and relax in the leisurely atmosphere of this sleepy fishing village with a view over the Bay of Naples.
Hours of the Terrazza Maresca bar and restaurant
Breakfast: served on the terrace from 7:30 to 10:30 am.
Lunch: from noon to 3 pm
Menu Bistrot: from noon to 10 pm
Dinner: each evening from 7 pm to 10 pm
Breakfast Overlooking the Sea
Begin your day right with breakfast on Relais Maresca's terrace restaurant overlooking the magnificent view of the Bay of Naples. Choose a classic Italian combination of croissant and cappuccino, or settle in for a more filling array of tarts, fresh fruit, sweet and savory pastries, charcuterie, and gluten-free selections.